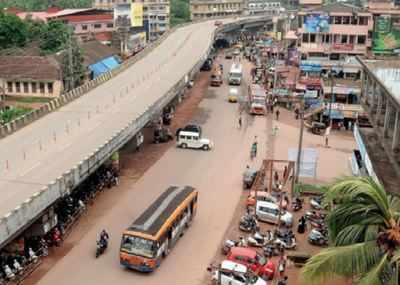 B.C Road, the heart of Bantwal, has been making news very often due to road traffic, vehicle parking problems, and road repair work.
ಕನ್ನಡ ವರದಿಗಾಗಿ ಕ್ಲಿಕ್ ಮಾಡಿ
National Highway "NH-75" passes through B.C Road and the road is deteriorating due to traffic. The road, which has been completely repaired last year, has now been reappeared with the pits.
Through this, we are requesting the Concerned authorities to take care of this issue and repair the road before the situation on the road gets worsened and become inconvenient for the vehicle movement.
The progressing B.C.Road city now has several commercial complexes, City Bus Stand, Mini Vidhana Soudha, APMC, MESCOM, Government Bus Stand, Hospitals, and many other Government Offices. As a result, the parking system has become a major headache. The National Highway 75 passes through B.C.Road city and the public use to park their vehicles under the flyover, which was at a higher risk.
The National Highway Authority's law prohibits vehicle parking under the flyover. But the public has choice left than parking under the flyover.
Currently, this place is also occupied by the taxi drivers. They are blocking the public parking lot by saying the public's vehicle is banned over here. This place is reserved for us from the Taluk Panchayat. We are using this place by paying tax to the Municipality.
As a result, most of the businesses around B.C Road Bus Stand and Vasudeva Plaza are losing their business without a parking system available for their customers.
Some taxi drivers' behavior has caused trouble for the public, though taxi drivers have a separate parking lot.
Hereby we request that this problem needs to be resolved by the concerned authorities.