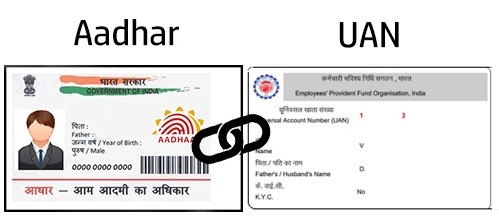 The Employees' Provident Fund Organization (EPFO) has made it necessary for the employees to link Aadhaar with their Universal Account Number.
ನೌಕರರ ಭವಿಷ್ಯ ನಿಧಿ ಸಂಸ್ಥೆ (ಇಪಿಎಫ್‌ಒ) ನೌಕರರು ತಮ್ಮ ಯುನಿವರ್ಸಲ್ ಅಕೌಂಟ್ ಸಂಖ್ಯೆಯೊಂದಿಗೆ ಆಧಾರ್ ಸಂಖ್ಯೆಯನ್ನು ಕಡ್ಡಾಯವಾಗಿ ಲಿಂಕ್ ಮಾಡುವಂತೆ ಆದೇಶಿಸಿದೆ.
EPFO has extended the deadline to seed Aadhaar with the Universal Account Number (UAN) for filing Electronic Challan-cum-Returns (ECR) till September 1, 2021.
ಎಲೆಕ್ಟ್ರಾನಿಕ್ ಚಲನ್-ಕಮ್-ರಿಟರ್ನ್ಸ್ (ಇಸಿಆರ್) ಸಲ್ಲಿಸಲು, ಇಪಿಎಫ್‌ಒ ಯುನಿವರ್ಸಲ್ ಅಕೌಂಟ್ ಸಂಖ್ಯೆ (ಯುಎಎನ್) ನೊಂದಿಗೆ ಆಧಾರ್‌ ಜೋಡಿಸಲು ಗಡುವನ್ನು ಸೆಪ್ಟೆಂಬರ್ 1, 2021 ರವರೆಗೆ ವಿಸ್ತರಿಸಿದೆ.
EPFO has made it necessary to link the Universal Account Number (UAN) of the Provident Fund account with the Aadhaar card. The organization has made changes to section 142 of the Social Security Code 2020. And this has changed the ECR filing protocol, according to an official statement.
ಭವಿಷ್ಯ ನಿಧಿ ಖಾತೆಯ ಯುನಿವರ್ಸಲ್ ಅಕೌಂಟ್ ಸಂಖ್ಯೆ (ಯುಎಎನ್) ಅನ್ನು ಆಧಾರ್ ಕಾರ್ಡ್‌ನೊಂದಿಗೆ ಲಿಂಕ್ ಮಾಡುವುದು ಅಗತ್ಯವಾಗಿದೆ. ಸಂಸ್ಥೆಯು ಸಾಮಾಜಿಕ ಭದ್ರತಾ ಸಂಹಿತೆ 2020 ರ ಸೆಕ್ಷನ್ 142 ರಲ್ಲಿ ಬದಲಾವಣೆಗಳನ್ನು ಮಾಡಿದೆ. ಮತ್ತು ಇದು ಇಸಿಆರ್ ಫೈಲಿಂಗ್ ಪ್ರೋಟೋಕಾಲ್ ಅನ್ನು ಬದಲಿಸಿದೆ ಎಂದು ಅಧಿಕೃತ ಹೇಳಿಕೆಯಲ್ಲಿ ತಿಳಿಸಲಾಗಿದೆ.
For more details and EPF profile updates, KYC, E- Nomination, and PF claim services you may contact us over Phone calls/ WhatsApp or walking into our offices
Our office address:
Main Office: 2nd Floor, Vasudeva Plaza, Bantwal, Mangalore-574 219.
Branch Office: L.K Complex, N 2-12(6), Near Govt Primary School, Narikombu, Bantwal – 574231
Call / Whatsapp: +919449956744 / +916364746244