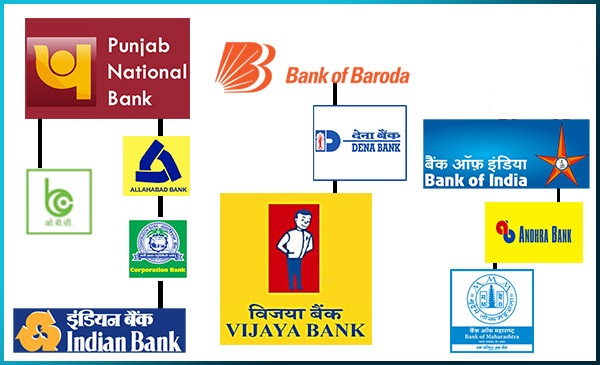 On Wednesday the government approved a scheme for combining 10 state-owned banks into four, putting any concerns about a potential delay in the process to rest.
ಕನ್ನಡ ವರದಿಗಾಗಿ ಇಲ್ಲಿ ಕ್ಲಿಕ್ ಮಾಡಿ.
According to the amalgamation scheme approved by the Union Cabinet, the balance sheets as well as the stocks of these banks will be merged effective April 1, 2020.
The banks must create an independent committee to deal with minority shareholder grievances and swing into action to go ahead with the process. The first move is to accept the stock swap ratio, with anchor banks scheduled to hold board meetings over the next few days. The PNB is scheduled for Thursday to hold its Board meeting.
From 01-04-2020, the following banks are getting amalgamated.
Punjab National Bank (PNB), Oriental Trade Bank, and United Bank of India will join forces to form the nation's second largest lender.
Andhra Bank and Corporation Bank with Union Bank of India.
Syndicate Bank with Canara Bank and Allahabad Bank with Indian Bank.
Thus, 10 Banks will become 4 Banks.
What necessary actions you must take as a bank customer?
It is suggested to approach your bank before 24th of this month, find out the formalities to be completed and take necessary action for these purposes.
• Issuance of Form 16-A for F.Y.2019-20 (A.Y. 2020-21)
• Change of ECS arrangements for Utility Payments and receiving credits into your running account.
• Find out if your existing ATM cum Debit card will be functional from 01-04-2020.
• Link your new account with your Demat Account for Shares & Mutual Funds.
• If you have a Credit Card issued by any of the banks now being merged with another, apply for a new one immediately because already the credit cards you hold are getting disabled.
• If you receive your Salary or Pension through any of the banks merged, make alternate arrangements.
• If have given any Standing Instructions for Utility Payments, Loan EMIs, RD Instalments, Credit Card payments etc., make alternate arrangements within 10 days.
• If you have a Safe Deposit Locker with the bank being merged, then you may have to approach the Acquiring Bank for allotment of a fresh locker.
• In case of Mortgage of immovable properties, assignment of shares/LIC policies, enquire their future fate.
• If you have taken any Insurance Policy through your bank for Life/Health, enquire with regard to their further validity and future servicing.
There could be a Bank strike on 27th of this month (March 2020). 28th and 29th are bank holidays in view of 4th Saturday and Sunday. 30th and 31st, bank staff will be busy with their annual closing of accounts and will be under immense pressure for recovery of loans.
Hence do not postpone your work till the last moment. Before visiting your bank, list out the jobs to be done and take necessary papers/documents/passbooks/cards with you and visit the bank in the post lunch session.
If you feel this information useful, share it with your loved ones and create awareness.