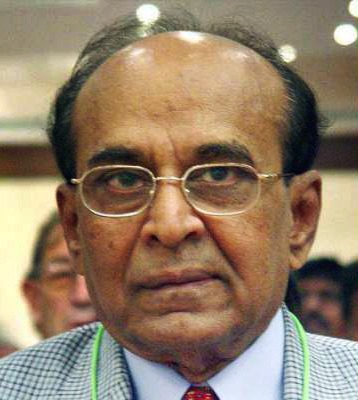 Retired Justice Venkatachala, who had appointed as the Karnataka Lokayukta in 2001 and fought against the Corruption is passed away on Wednesday, October 30, 219 at 7 am in Bengaluru.
He is survived by his daughter, Dr Aruna Ramesh and his son-in-law, Dr Ramesh D.
Justice Venkatachala was known for bringing back into action the Lokayukta, the anti-corruption body, in Karnataka. He was well known for instilling fear among the Karnataka Administration, for his tirade against the Corruption.
As per the sources & statement from the hospital, Justice N Venkatachala was brought to Emergency room at Ramaiah Memorial Hospital in an unresponsive state at 6.30 am after an accidental fall at home after getting up the morning at 6 am. Specialist in the hospital took all resuscitate measures to save his life. Since the organs remained unresponsive he was declared dead at 7 am.
Karnataka Chief Minister BS Yediyurappa has condoled the death of former judge N Venkatachala.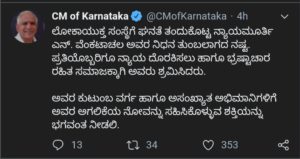 "The death of Justice N Venkatachala, the judge who brought honour to the action of Lokayukta is an irreparable loss. He worked hard to bring justice to everyone and for a corruption free society. May the lord give his family and countless fans the power to endure the loss," Yediyurappa tweeted.
Former Chief Minister Siddaramaiah also expressed grief at the judge's death through following tweet as: "Saddened by the demise of Former Karnataka Lokayukta & Rtd. Supreme Court Judge Shri. Venkatachala. His contribution to fight against corruption shall always be remembered. My deepest condolences to his family & friends,"
Justice Venkatachala was born on in Mittur village of Mulabagal taluk in Kolar district, on 3 July 1930. He finished his schooling in Mulbagal, his high school education in Kolar and his college education in Bengaluru. He obtained his Bachelor of Science and Bachelor of Law degrees from Mysore University.
On 16 November 1955 Venkatachala was enrolled as an Advocate in the then High Court of Mysore. He practiced in civil, criminal and constitutional matters.
He was appointed as the High Court Government Pleader from 1968 to 1973 and then was appointed as an additional judge of the Karnataka High Court on November 28, 1977. He became a permanent judge on September 8, 1978.
He served as a legal adviser to the University of Agricultural Sciences, Hebbal from 1963 to 1973 and to Bangalore University from 1970 to 1973.
Appointed in 1990 to the Unlawful Activities (Prevention) Tribunal under the Unlawful Activities (Prevention) Act, 1967.
In May 1992, he was appointed as the Acting Chief Justice of the Karnataka High Court and then was elevated to the Supreme Court on July 1, 1992. He retired as a Supreme Court judge on July 2, 1995.
On July 2, 2001, he was appointed as the Karnataka Lokayukta after his retirement. During his tenure, he looked into over 50,000 cases and complaints of misconduct and though there was a public campaign to bring him back for a second term, the legal bar on reappointment stopped this from happening.